Treat yourself to dinner before the show at the Old Lyme Inn (attached to The Side Door Jazz Club!) and enjoy our delicious three-course prix-fixe dinner with inspired dishes by head chef Sichanh Patana!
MAKE DINNER RESERVATIONS HERE (we recommend reservations sometime between 5:30 and 6:30pm)
OLD LYME INN DINNER MENU: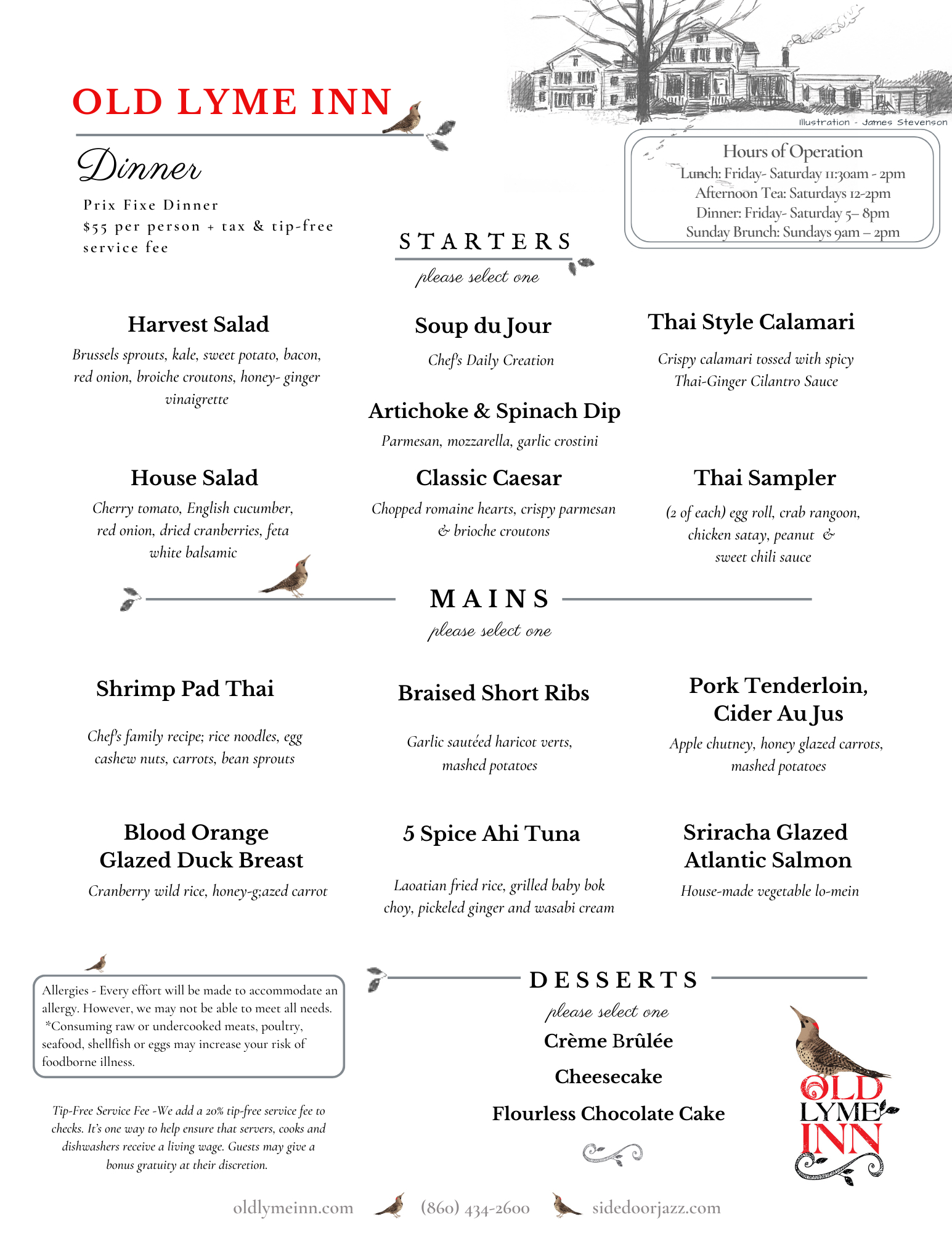 *Doors open at 7:30pm
*Show starts at 8:30pm
*Seating is first-come, first-served.
*If you are dining with us, you may come to the club when doors open at 7:30pm to secure seating.
ABOUT THIS SHOW:
ALEX "APOLO" AYALA

Puerto Rican Bassist Alex "Apolo" Ayala-Berri?os embodies the spirit of the multi-lingual musician. His vast knowledge of both Latin music and Jazz languages makes him one of the few Bi-lingual bassists in the music scene. A native from San Juan,Puerto Rico, he blends his Afro-Caribbean roots with Jazz language, which enables him to pace himself through Swing, Bebop, Blues, Bomba, Plena, Rumba, and explorations of other Latin-American expressions (Samba/Bossa, Tango, Afro-Peruvian, Afro- Colombian, Afro-Venezuelan). With a professional career of over 20 years, his body of work includes Grammy Nominations and a Latin Grammy Award as a sideman, as well as performances, tours, and recordings with Latin music giants and world-renowned Jazz musicians. Eddie Palmieri, Gilberto SantaRosa, Roberto Rohena, Richie Ray & Bobby Cruz, Spanish Harlem Orchestra, Mambo Legends Orchestra, Tito Nieves, Tito Rojas, Orquesta Akoka?n, Puerto Rican Power, Luis "Perico" Orti?z, Giovanni Hidalgo, Antonio Hart, Papo Va?zquez, Nestor Torres, Conrad Herwig, Mike Eckroth, Flavio Silva, Edsel Gomez, Paoli Meji?as, Ralph Irrizary & Timbalaye, Jerry Gonzalez, William Cepeda, Mitch Frohman, Los Pleneros de la 21, among many others, are on his resume. He has also recorded for Puerto Rican rapper extraordinaire Residente. Based in New York City since 2013, he started in music at age 11. He studied and graduated with honors from "Escuela Libre de mu?sica de Hato Rey", and later on he earned his BA Degree in Jazz and Caribbean Music from Conservatorio de Mu?sica de Puerto Rico (Puerto Rico Conservatory of Music), where he studied with legendary bassist Eddie Gomez, and worldwide renowned Saxophonist David Sanchez, among others. Currently, he leads "The Ba?mbula Project", an Afro-Puerto Rican Jazz Quartet, and also plays with the Antonio Hart Quartet, Mike Eckroth Latin Jazz trio, Trombeatz, Flavio Silva's Break Free, and serves as the Musical Director of Los Pleneros de la 21. His second album as a leader, "BA?MBULA", was released on February 2022 under Truth Revolution Recording Collective.