PatronDev by InstantSeats
It is my pleasure to introduce to you PatronDev, our patron/donor relationship management application. It is the most important new technology for venue managers to come along in recent years. It will revolutionize your organization.
Commonly known as a CRM system, it is used by an organization to track and organize all of its contacts in one database. Every interaction with a patron is recorded in the system, and is accessible online by all staff members across the organization.
The InstantSeats CRM, known as PatronDev, is not an add-on nor is it a 3rd party service. It is integrated software built by us from the ground up to hook into every facet of ticketing, fund-raising and marketing. It's an entirely new approach to managing your relationships with your patrons.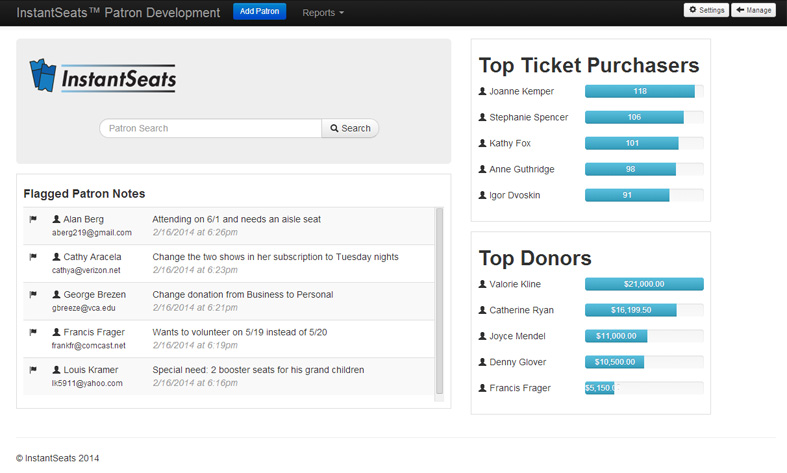 InstantSeats with PatronDev is an all-in-one system for box office ticketing, donations, fundraising, day-to-day activities, email marketing, and social interactions. Our goal is to make this technology affordable for small and mid-sized organizations. We've achieved this by offering at no cost this powerhouse of technology with capability that has never been seen before in the ticketing industry.
With PatronDev, every computer and staff member in your organization is able to assist a patron in a ticket purchase, making a donation, and follow up on any specials requests.
Why PatronDev Matters
Today, most organizations are hampered by the technology they use to run their businesses. An office full of computers running stand-alone outdated software is typical. Most data is accessible to only one staff member and stored on one computer. This mode of operation is outdated and conceptually flawed.
For the last few decades, these kinds of systems represented the state-of-the-art for business technology but in today's world they are not good enough. The fundamental shortcoming is that while these individual systems help departments run better, none of them were designed to optimize communication with a patron.
Additionally, for executive directors or boards, stand-alone transactional systems cause difficulties on a larger scale. Without aggregated data, it's impossible to get meaningful reports that can help you run your organization. Gathering information like that requires an integrated system, not separate transactional ones.
PatronDev is an entirely different approach to back office operations. What makes our system so radically different is that it is fundamentally not a transactional system. It starts with a different goal: It puts the patron at the center by integrating the functions of all departments into one aggregated database and management tool.
PatronDev provides venues with a single place to capture and store all of their interactions with a patron. Each and every email campaign, ticket purchase, donation, phone call or any other kind of interaction with a patron resides in a single database entry, all associated with the patron's record.
Because all staff members can access the same system, everyone is empowered to help patrons get what they need, when they need it. When you feel like you know your patron, your patron feels like they have a relationship with the organization as a whole.
PatronDev documents your organization's history. Daily interactions with patrons are recorded and you never have to worry about misfiling or your history walking out the door when a staff member leaves.
Features That Make A difference:
Targeted email marketing.
Segment your patrons into groups and market to them.
Smarter fund-raising.
A 360 degree view of your patrons.
Staff collaboration.
Custom reporting with filters.
Targeted email marketing.
Build your database automatically with every patron interaction.
Accept donations outside of event ticketing or as part of a ticketing transaction.
Maintain notes, set alerts and run a to-do list for your staff.
Turn ticket buyers into loyal patrons.
Provide more intelligent customer service.
I hope you can see now why running your organization with PatronDev will do far more than simply replace your current systems with a better one.
PatronDev will make your organization more efficient and your staff will be more productive. Give me 30 minutes of your time and I will demo this revolutionary system to you.
Louis Scherr
President, InstantSeats, Inc.