02.01.20


New Reporting

Announcing our Financial Dashboard and our Daily Sales Reports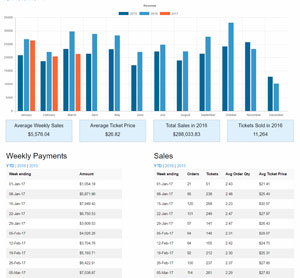 The most requested feature we get from our venue managers is the ability to watch in real time current sales, future sales and historic sales and the ability to compare them easily.

Financial Dashboard
- Compare monthly sales year-to-year with our colorful bar charting app.
- Hover over any bar to view the sales in dollars.
- Clicking the year in the color legend at the top will turn off that year making it easy to compare any 2 years or view any single year.
- View your Weekly Payments and Sales going back 4 years.
- Know your average ticket price and average ticket quantity per order.
- Access total ticket sales and revenue for the prior year.
Daily Sales Report

- Watch ticket counts and sales for a single event or all events.
- Observe which events are trending in sales and which are your best sellers.
- Learn how sales increase or decline when approaching the event date.
- Print or download reports.
---
08.16


Announcing InstaPay!

Our new mobile point-of-sale app for selling tickets at the door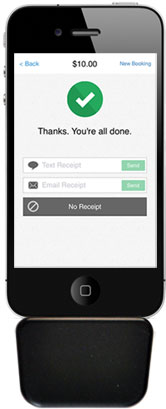 InstaPay by InstantSeats is a mobile POS system for event organizers and promoters. Sell tickets by credit card at the venue's point-of-entry. Ordering takes just seconds. Tap the number of tickets, swipe the card and you're done in 15 seconds or less. Not only can you eliminate lines at the gate, you can walk out into the line and take orders. The convenience of a hand-held POS is unparalleled in the industry completely eliminating the need for the traditional box-office.
Features include:
- Fast ticket selection. Just tap the screen to add tickets into the cart.
- Choose up to 6 different ticket types in one pass
- Never oversell unless you want to! Real-time ticket inventory sold and available are shown on the ticket selection screen
- Swipe credit cards with our sturdy card reader
- Transactions are encrypted and secure
- Accept cash orders or credit card orders
- Send QR code tickets to the buyer instantly with a text message or email
- Card information can be entered manually if needed.
- Works with iPhone 4, 5 6, and 6 Plus and iTouch (4th and 5th generation)
Use with our scanner app and complete event management is now in the palm of your hand.
Do you own or manage a venue? We have an integrated ticketing and marketing platform that meets your needs and those of your patrons! We invite you to browse our site and see how we approach the multiple facets of ticketing and marketing events. Check out our clients and get testimonials. We invite your comments and hope you keep in touch.
Coming soon: Our new Pre-sale Plus application
---
02.25


InstantSeats just got a facelift! Check out our new ticketing website

InstantSeats is now responsive and works great on all desktop and mobile devices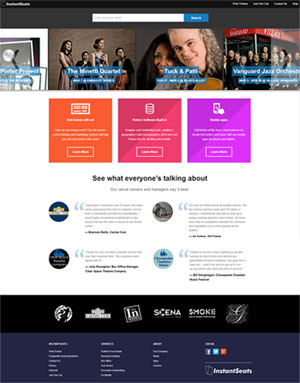 With more than 500 venues currently using our ticketing platform, we get constant feedback from our venues and patrons. Our new release has been inspired by your feedback and we thank you! We are very excited about it and hope you will be too.
We've taken a dual approach with our new website. On one hand we wanted to showcase our events in a grand style with higher quality images, more room for event descriptions, artist bio, links, videos and social sharing. This has been a request by some of our music presenters that want to educate their patrons about new or unknown artists that have little or no available press. On the other hand we wanted a system that allowed a patron to buy tickets quickly and without browsing through multiple pages and clicks before getting a ticket.
We've accomplished both buy giving the buyer a choice of which avenue to take. Clicking on Event Info gives the patron detailed information about the event. Clicking on Buy Tickets takes you right to checkout! I can't say we're Amazon and promise a one click checkout (they say one however it's really 3 clicks) but we come very close, usually 2-3 clicks and you're a happy camper with tickets in hand or on your phone.
Coming soon: Our new mobile POS: InstaPay
---
12.05


Announcing Patron Dev

Full-featured Patron Management software built in!

Commonly known as a CRM system, it is used by an organization to track and organize all of its contacts in one database. Every interaction with a patron is recorded in the system, and is accessible online by all staff members across the organization.

The InstantSeats CRM, known as PatronDev, is not an add-on nor is it a 3rd party service. It is integrated software built by us from the ground up to hook into every facet of ticketing, fund-raising and marketing. It's an entirely new approach to managing your relationships with your patrons.

InstantSeats with PatronDev is an all-in-one system for box office ticketing, donations, fundraising, day-to-day activities, email marketing, and social interactions. With PatronDev, every computer and staff member in your organization is able to assist a patron in a ticket purchase, making a donation, and follow up on any specials requests.

Features That Make A difference:
Targeted email marketing.
Segment your patrons into groups and market to them.
Smarter fund-raising.
A 360 degree view of your patrons.
Staff collaboration.
Custom reporting with filters.
Targeted email marketing.
Build your database automatically with every patron interaction.
Accept donations outside of event ticketing or as part of a ticketing transaction.
Maintain notes, set alerts and run a to-do list for your staff.
Turn ticket buyers into loyal patrons.
Provide more intelligent customer service.
---
10.26


Announcing new Facebook and Twitter apps

Posting events to Facebook and Twitter have never been easier!

After adding an event to InstantSeats, you will see our new Facebook and Twitter app interface.

Both apps have been re-written to conform to the latest Twitter and Facebook data specifications and changes to their interfaces.

In the past, customer support had to setup and maintain private keys, logins and account numbers for these connections. Our new system allows you to set or reset your connections to these accounts without our intervention. In addition, when you signup the first time in Facebook, you are able to give the InstantSeats app specific permissions to post on your page of choice. An example would be: if you manage multiple pages, one for personal, one for your venue and one for another business, the login setup will show you in a drop down box each page your login has permissions for. Just choose which page you would like to post to and click OK.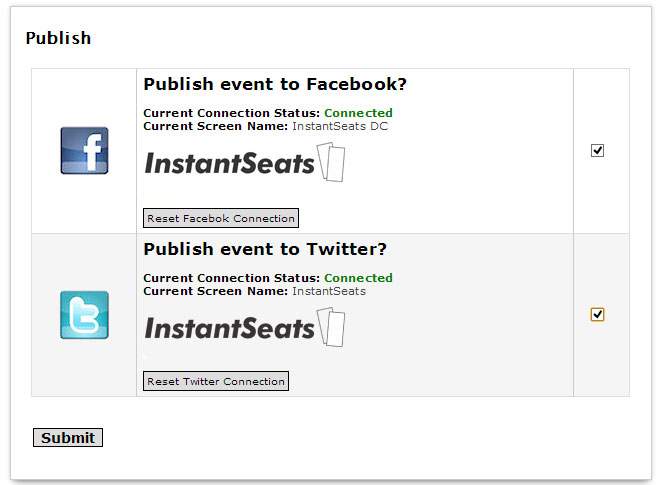 Once you finish the initial setup, there is no need to reset your connection again unless you change your Facebook pages or logins.
How to post to Facebook and Twitter:
After posting an event, you will see the Publish screen.
Setup Facebook and Twitter connections by clicking the Reset Connection buttons one at a time. Complete each screen that Facebook or Twitter takes you through by agreeing to allow InstantSeats permissions to post events. After you finish one, begin the other. If Twitter shows Connected, there is no need to reset it's connection.
The screen should now show your venue logo or profile photo for each account under your screen name. You will see Connected in green, if you were successful.
To post, check the box on the right for both and press Submit
Your Facebook post will be seen under Events and on your wall. The URL for your event page is https://www.facebook.com/YourVenueName/events
If you change or cancel an event in InstantSeats, don't forgot to cancel the event in Facebook and Twitter.
The connection to Facebook and Twitter can sometimes take a few seconds or more depending on how busy their systems are. You will see the app " Connecting". Once you see Connected you can Publish.
Posts to your Facebook page include the following:
Event Title
Photo
Event Description for Calendar and Newsletter
Date and Time
Buy Tickets link
Location of Event
Your tweet includes the following:
By default it adds the words: "Just added"
Event Title
Date and Time
Buy Tickets link
Depending on the length of your event title, you will have room for a sentence or two about the event which you will need to type in. After the event has been tweeted, you can re-tweet by going to Live Sales for the event and click Update Twitter.
When posting more than one event at a time, Facebook will show each event as a separate event. Twitter will show multiple events as one tweet however the link in the tweet will go to an InstantSeats page that shows each event of the series including any previously entered events that use the same artist.
We hope you take advantage of these time-saving apps. They "accurately" help spread the word about your events.
---
04.15.13


Single Event Report

A full reporting per show is now available.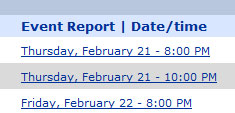 We now have a single event report. This report is available by clicking on Show Report under Live Sales or clicking the show date on the main screen where your list of event are. The report accounts for total sales, refunds, revenue channels and net proceeds due. This report is for reference only if we currently pay you weekly.
---
03.25.13


InstaScan scanner app

Have you noticed lately that the InstantSeats ticket has a QR code plus a bar-code?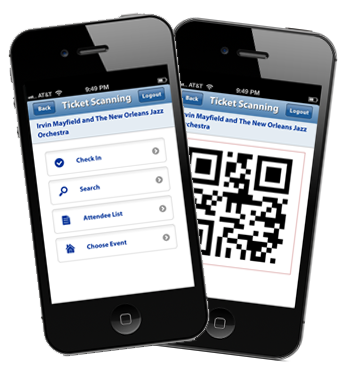 We have just launched our new iPhone Ticket Scanner app called InstaScan and it's a free download in iTunes. Download and start using it - no setup required. Use your same InstantSeats user/password. The InstantSeats Ticket Scanner lets you scan tickets using an iPhone camera at point of entry (it uses the new QR code - we kept the bar-code on the ticket for any venues who still prefer to use a bar-code scanner) The application synchronizes with the InstantSeats system to validate tickets in real-time, track attendance and prevent a ticket from being used twice. More than one device can scan tickets simultaneously at multiple points of entry.
Features:
Industry leading scanning technology
Scan Phone to Phone..no paper ticket needed!!!
See colorful images and hear sound alerts after each scan confirming a valid or invalid ticket
Check out guests who need to leave and re-enter the venue
Enter guests in manually who lost their ticket. Search by name, confirmation number or last four digits of the credit card used to purchase
Track how many guests attended an event - Real-time counter shows how many scanned tickets and how many attendees have yet to check-in
Works with iPhone 4 and 5 and iTouch (4th and 5th generation)
Contact us of you would like mobile ticketing activated in your account. This is an extra option presented to the buyer at checkout in addition to the traditional printed ticket. It lets buyer to send the mobile ticket to their Smartphone.