Treat yourself to dinner before the show at the Old Lyme Inn (attached to The Side Door Jazz Club!) and enjoy our delicious three-course prix-fixe dinner with inspired dishes by head chef Sichanh Patana!
MAKE DINNER RESERVATIONS HERE (we recommend reservations sometime between 5:30 and 6:30pm)
OLD LYME INN DINNER MENU: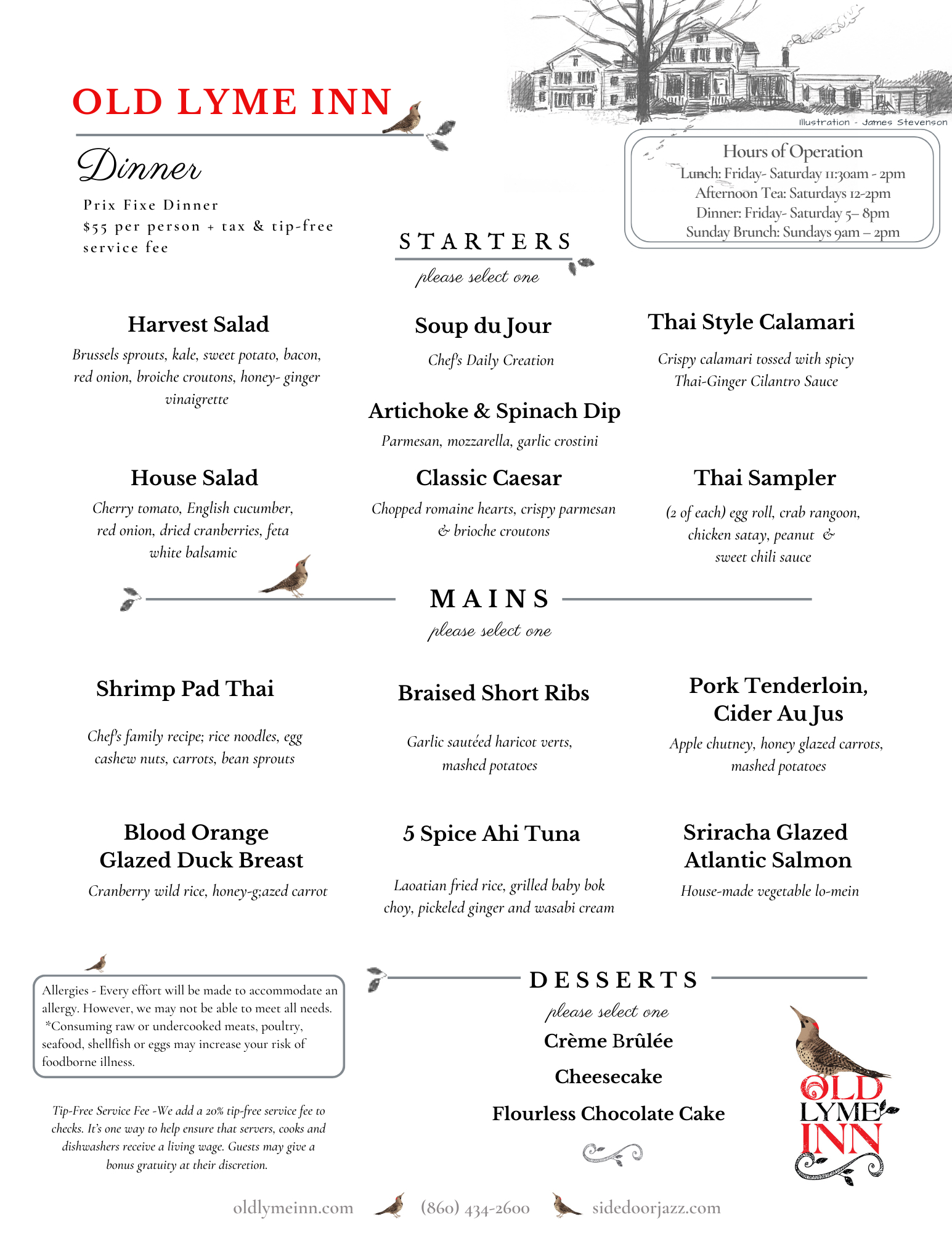 *Doors open at 7:30pm
*Show starts at 8:30pm
*Seating is first-come, first-served.
*If you are dining with us, you may come to the club when doors open at 7:30pm to secure seating.
ABOUT THIS SHOW:
Drummer, percussionist, keyboardist, composer, arranger, band leader and music educator Ronnie Burrage was born on October 19, 1959 in St. Louis, Missouri. His style draws most notably from the musical genres of "jazz", "funk" and "soul". Burrage sang in The St. Louis Cathedral Boys Choir from ages seven to eleven, and had the opportunity to perform with Duke Ellington, one of the greatest musical figures to ever live, at the incredibly young age of only nine years. He was introduced to "jazz" by listening to music every day, which was typically presented to him by his mother, his uncles and grandparents. He played drums, percussion, piano and vibraphone, and sang in "funk", "R&B", and "jazz" groups, including "The Soul Flamingos", "Fontella Bass", "The Oliver Sain Band", "Third Circuit & Spirit"," Rainbow Glass" and "Expression Jazz Quintet". From the ages 15 to 17, Ronnie was a member of "No Commercial Potential" with keyboardist Mark Friedrick, bassist Darryl Mixon and guitarist Richie Daniels. They served as the opening act for pianist/keyboardist George Duke and Canadian "pop" singer/songwriter Gino Vannelli. Burrage played in clubs, concert halls, festivals and other assorted venues, including the annual "Afro Day in the Park" in St. Louis, Missouri. As a member of The St. Louis Metropolitan Jazz Quintet in the early 1980's.
Ronnie Burrage's current band "Holographic Principle" is featured on his upcoming Truth Revolution Recording Collective/Truth Revolution Records in collaboration with his own label, MiMikAlana Records debut release, entitled "Dance of the Great Spirit". The band includes Polish pianist Michal Wierba and bassist Nimrod Speaks, alongside Ronnie himself on an assortment of instruments, which of course include the drum kit. According to Burrage, "The purposes of 'Dance of the Great Spirit' is to bring 'Holographic Principle' to the world, to provide work for each member of the trio, so that they might provide for their families and most importantly fund the nonprofit organization, 'World Rhythm Academy' www.worldrhythmacademy.org.