Treat yourself to dinner before the show at the Old Lyme Inn (attached to The Side Door Jazz Club!) and enjoy our delicious three-course prix-fixe dinner with inspired dishes by head chef Sichanh Patana!
MAKE DINNER RESERVATIONS HERE (we recommend reservations sometime between 5:30 and 6:30pm)
OLD LYME INN DINNER MENU: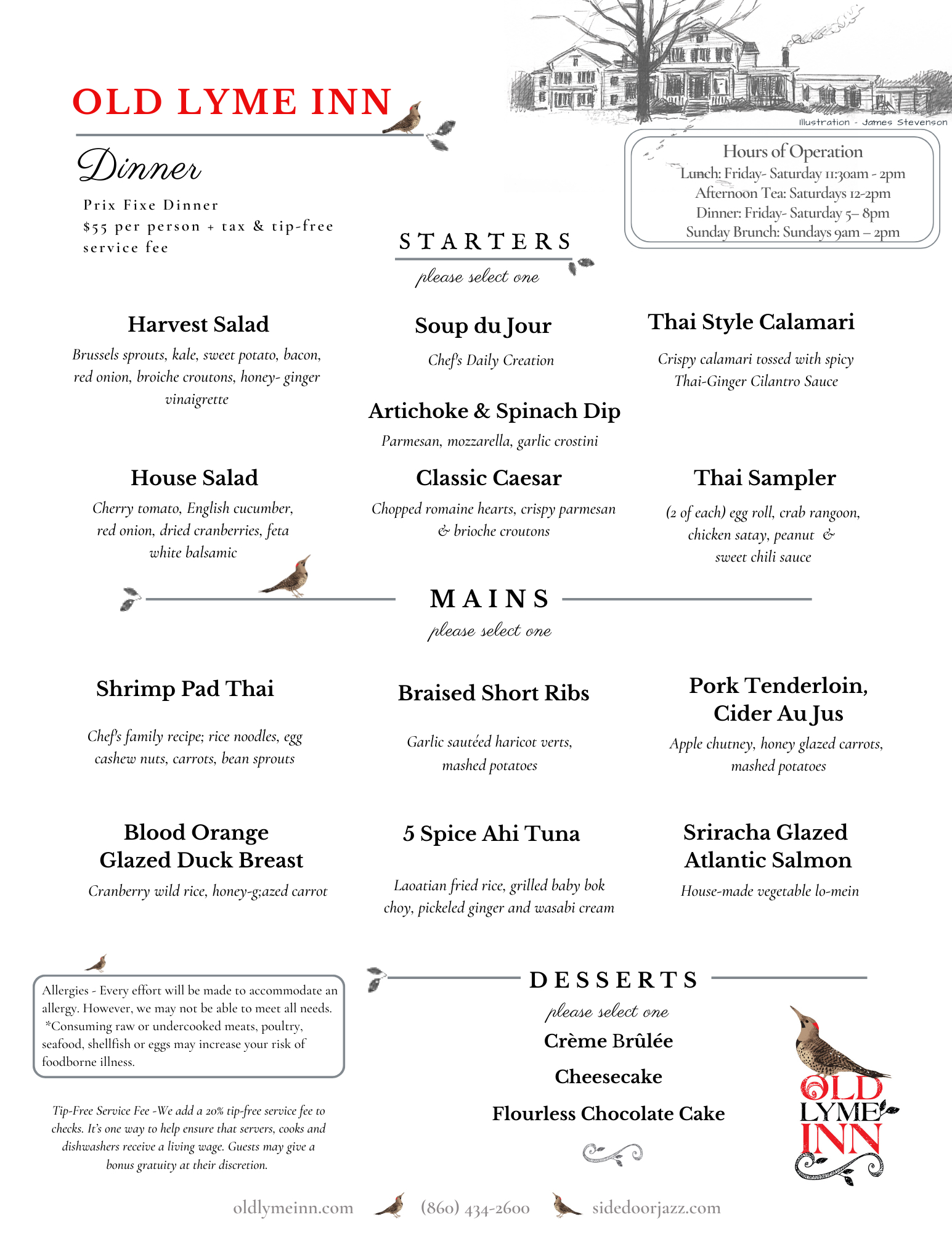 *Doors open at 7:30pm
*Show starts at 8:30pm
*Seating is first-come, first-served.
*If you are dining with us, you may come to the club when doors open at 7:30pm to secure seating.
Jimmy Greene - saxophones
Keith Brown - piano
Dezron Douglas - bass
Johnathan Blake - drums

A native of Connecticut, Greene is considered one of the most respected saxophonists of his generation. His previous solo releases, Flowers: Beautiful Life Vol. 2 (Mack Avenue), the GRAMMY®-nominated Beautiful Life (Mack Avenue), Live at Smalls (SmallsLive), Mission Statement (RazDaz/Sunnyside), The Overcomers Suite (NuJazz), Gifts and Givers (Criss Cross), True Life Stories (Criss Cross), Forever (Criss Cross), Brand New World (RCA Victor) and Introducing Jimmy Greene (Criss Cross) have been met with much critical acclaim. In fact, Tony Hall of Jazzwise Magazine (UK) calls Greene " . . . . without doubt one of the most striking young tenors of recent years."
Greene and his groups perform regularly in jazz venues, festivals and clubs worldwide, including Jazz Standard (New York), Newport Jazz Festival (Rhode Island), Detroit Jazz Festival (Michigan), TD Winnipeg International Jazz Festival (Canada), Le Club (Moscow), Casa del Jazz (Rome), Sunside Jazz Club (Paris), Red Sea Jazz Festival (Israel), Lapataia Jazz Festival (Uruguay) and Amazonas Jazz Festival (Brazil). In one such appearance, Jim Macnie of the Village Voice said,"[Greene] is good for a couple of body chills every time you see him. He's got a big barrelhouse sound, and a way of negotiating changes that make academic moves seem natural." Greene's television performances in support of his recordings have included spots on The Tonight Show starring Jimmy Fallon (NBC-TV), CBS This Morning and The Meredith Vieira Show (Nationally Syndicated). Greene has also performed and presented in churches, faith-based conferences, mental health conferences and arts symposiums throughout the United States and Canada.
In addition to his recordings and appearances as a leader, Greene appears on over 75 albums as a sideman, and has toured and/or recorded with Horace Silver, Ron Carter, Tom Harrell, Freddie Hubbard, Harry Connick, Jr., Avishai Cohen, Kenny Barron, Lewis Nash, Dee Dee Bridgewater, the New Jazz Composers Octet and the Carnegie Hall Jazz Band, among many others.