Treat yourself to dinner before the show at the Old Lyme Inn (attached to The Side Door Jazz Club!) and enjoy our delicious three-course prix-fixe dinner with inspired dishes by head chef Sichanh Patana!
MAKE DINNER RESERVATIONS HERE (we recommend reservations sometime between 5:30 and 6:30pm)
OLD LYME INN DINNER MENU: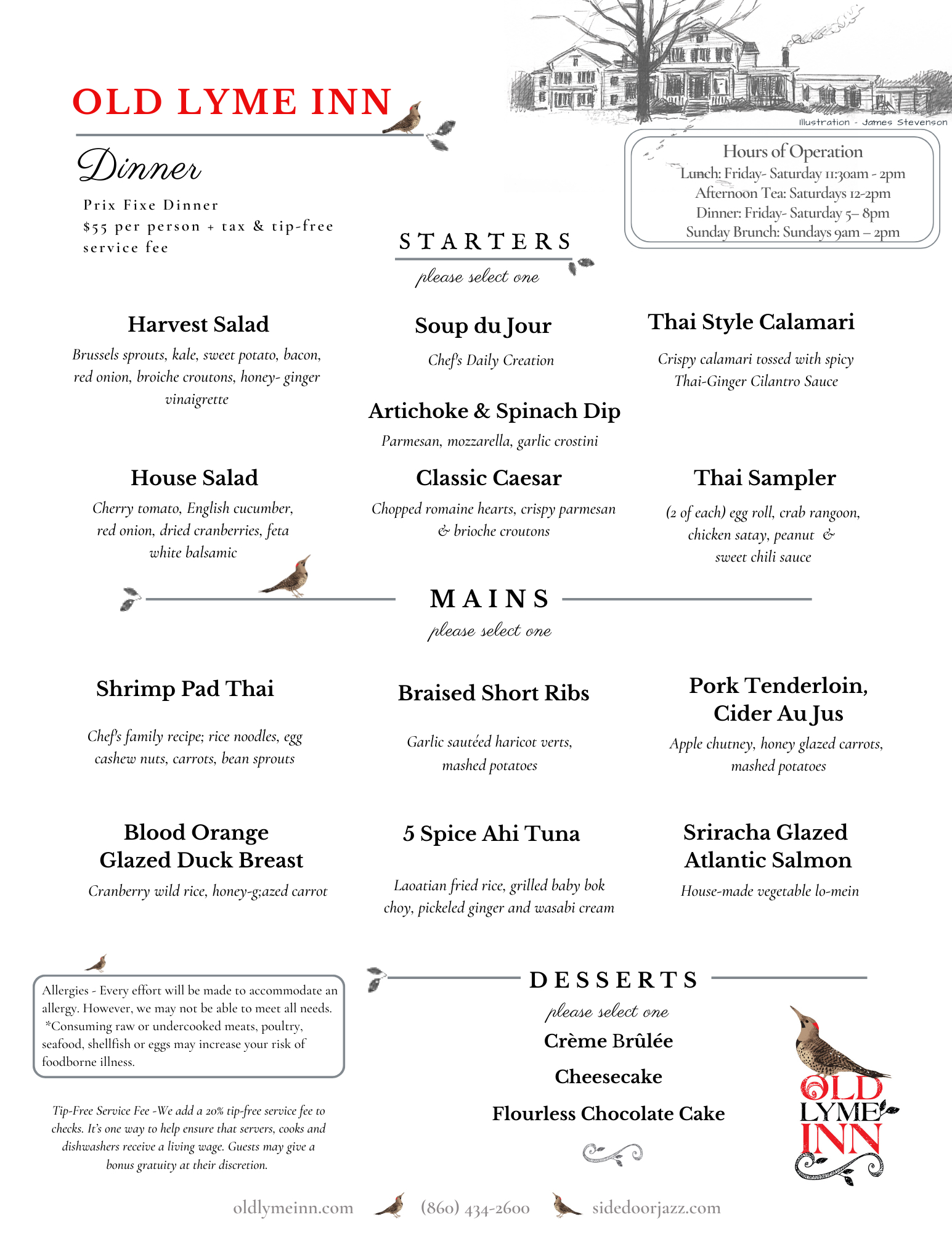 *Doors open at 7:30pm
*Show starts at 8:30pm
*Seating is first-come, first-served.
*If you are dining with us, you may come to the club when doors open at 7:30pm to secure seating.
ABOUT THIS SHOW:
Joe Chambers - drums/leader
Rick Germanson - piano
Mark Lewandowski - bass
Born and raised near Philadelphia to a musical family, Joe Chambers heard not only the rock and roll of Louis Jordan and Slim Gaillard, but the classical of Vivaldi, Wagner, Beethoven and Mahler. Drums came early. "I think an instrument picks you. I used to play on post and pans when I was little. I was setting them up like a kit at four years of age, so the instincts were there."
More taken with Lester Young and Lionel Hampton than Little Richard, Chambers nonetheless soon joined a band playing all the R&B hits of the day. "We played 'house rock,' horn players walking the bar like Big Jay McNeely and Tiny Bradshaw. But then I started hearing esoteric jazz like Miles Davis, and that grabbed me. When I heard that at age 13, immediately I was hooked."
Chambers' parents also played a big role in his musical vision, and prompted him to learn more. "The level of music that they listened to compared to today was just incredible, in terms of popular culture. Bebop is the most revolutionary period in American music. I call it the era when drummers freed themselves, from Jo Jones to Kenny Clarke to Max Roach.
Preachers used to preach against jazz. Then the people stopped dancing, killing the big bands. Bebop moved jazz from folkoric to a more cult-oriented and intellectual sound. That's why R&B came in. There was a need for more proletarian music. Bebop became cult music. It was a revolutionary time. I witnessed all of that."
Earning his undergrad degree in music from the Philadelphia Conservatory of Music, by age twenty-two Chambers had cut his first session with Freddie Hubbard's Breaking Point album. The snowball began , from the aforementioned recording sessions to road work with Harold Land, Sonny Rollins, Herbie Hancock, Eric Dolphy, and Dizzy Gillespie.
A member of the '60s fraternity that recorded some of Blue Note's greatest music, Joe Chambers can lay claim to a place alongside such innovative artists as Freddie Hubbard, Wayne Shorter, McCoy Tyner and Bobby Hutcherson. Chambers' intense drumming, a trademark blend of cymbal- driven forward motion, deep rhythmic continuity, and explosive creativity, graced many landmark albums which fostered one of the most fertile eras in recent jazz memory. Chambers' credits include Hubbard's Breaking Point, Hutcherson's Components, Shorter's Schizophrenia and Etcetra, Hill's Compulsion, and Tyner's Tender Moments, as well as Archie Shepp's New Thing at Newport, Charles Mingus' Like a Bird, and Chick Corea's Tones for Joan's Bones and many others.