"This music lives and breathes freshness and exhilarating originality." – Jazz Journal
Treat yourself to dinner before the show at the Old Lyme Inn (attached to The Side Door Jazz Club!) and enjoy our delicious three-course prix-fixe dinner with inspired dishes by head chef Sichanh Patana!
MAKE DINNER RESERVATIONS HERE (we recommend reservations sometime between 5:30 and 6:30pm)
OLD LYME INN DINNER MENU: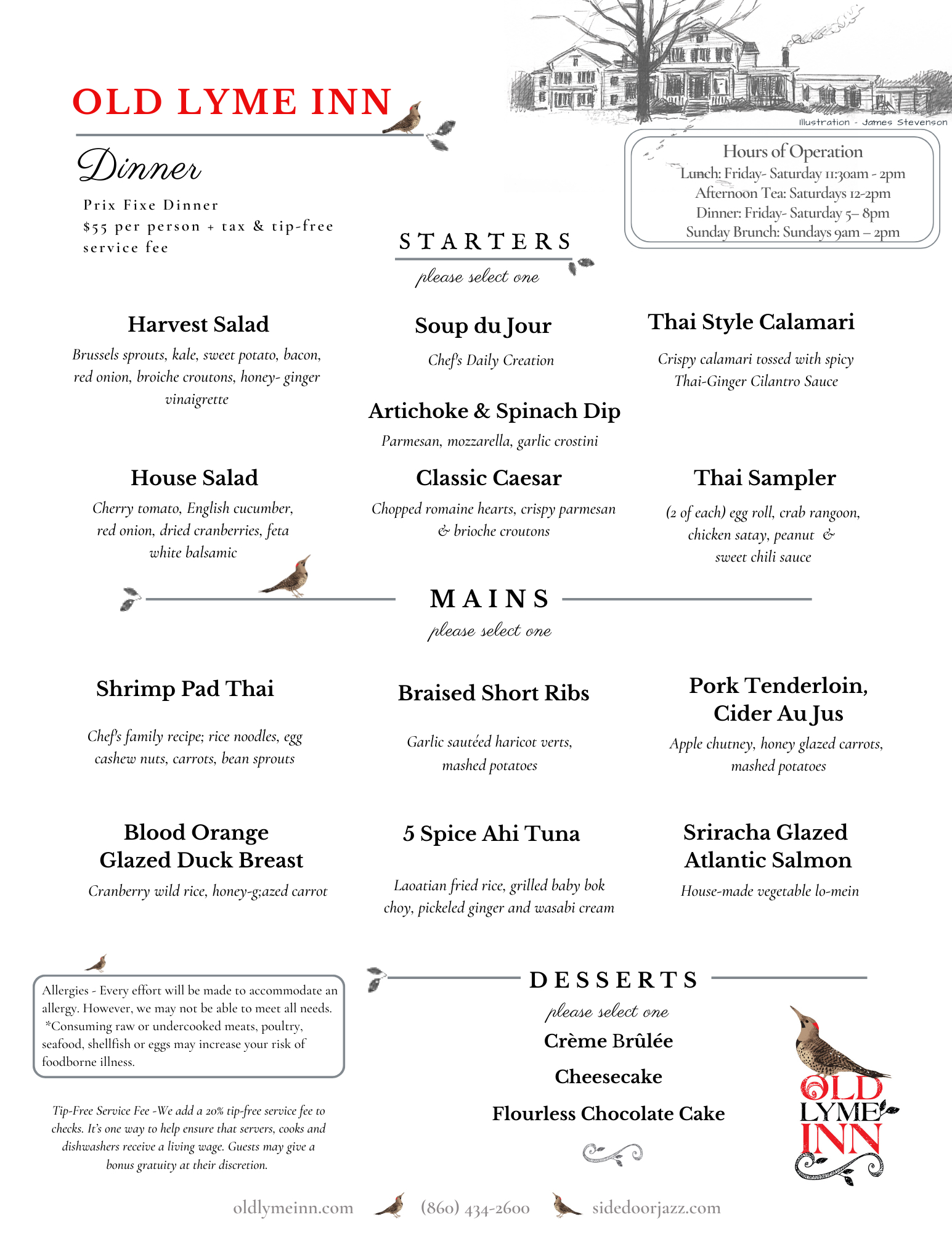 *Doors open at 7:30pm
*Show starts at 8:30pm
*Seating is first-come, first-served.
*If you are dining with us, you may come to the club when doors open at 7:30pm to secure seating.
ABOUT THIS SHOW:
Michael Weiss - piano
Eric Alexander - tenor saxophone
Vince Dupont - bass
Pete Van Nostrand - drums
Since arriving in New York in 1982, pianist, composer, arranger and educator Michael Weiss has forged a formidable career working in the bands of jazz legends Johnny Griffin, Art Farmer, The Jazztet, Slide Hampton, Frank Wess, Jimmy Heath Quartet, the Heath Brothers, the George Coleman Quartet, Charles McPherson, Jon Hendricks, Lou Donaldson, Junior Cook/Bill Hardman Quintet, Vanguard Jazz Orchestra and Mingus Epitaph Orchestra . Weiss' fifteen year association with Griffin, yielded four recordings and annual tours in the USA and around the world. He has also performed with Joe Henderson, Woody Shaw, Clark Terry, Clifford Jordan, Curtis Fuller, Phil Woods, Pepper Adams, Joe Lovano, Ron Carter, David Newman, Gerry Mulligan, Nancy Wilson, Randy Brecker, Tom Harrell, Wynton Marsalis, Gary Bartz, and other high profile jazz recording artists. As a band leader, Weiss has headlined at the Village Vanguard, Detroit Jazz Festival, Detroit Symphony Hall, Smithsonian Institution, and major New York venues such as the Blue Note, Jazz Standard, Birdland, Bradley's, Iridium, Sweet Basil, Smoke and Dizzy's Club CocaCola. Reviewing his Vanguard debut, the New York Times wrote that Weiss "demonstrated a strong sense of leadership and organization" exhibiting "sensitivity and logic, along with crisp control." Television appearances include CBS-TV's Nightwatch and PBS' Live From Lincoln Center: The City of Jazz. NPR radio appearances include PianoJazz with Marion McPartland, Making the Music with Wynton Marsalis, Jazzset, and the Jazz Piano Christmas Special. Weiss took second prize in the 1989 Thelonious Monk Institute's International Piano Competition. Weiss' recordings as a leader on the Cellar Live, CrissCross, SteepleChase, DIW and Sintra labels have been hailed by the critics:
"Weiss has a rich palette of composing devices at his command" – Downbeat
"Weiss' original compositions conjured a distinct world of sound, a testament to the nature of Weiss' imagination." – Chicago Tribune
"Warmth, integrity and above all, originality. Weiss' originals are formful and dynamic enough to sound as if they were standards of the genre." – JazzTimes
"the songs simply smoke" – Detroit Free Press
"About as close to perfection as a recording can get" – Jazz Improv
"This music lives and breathes freshness and exhilarating originality." – Jazz Journal