Nat Reeves - Bass
Mary DiPaola - Piano
Molly Sayles - Drums
For over 40 years, Nat Reeves has been one of the top bassists in jazz. His supportive and stimulating playing has uplifted a countless number of sessions and recording dates (most notably with the great altoists Jackie McLean and Kenny Garrett). He has lead his own CDs State of Emergency and Blue Ridge. Both as a performer and an educator, he has made a strong impact on the jazz world.
Nat Reeves was born and raised in Lynchburg, Virginia. "My grandfather played the banjo, mandolin and guitar. One day I picked up his guitar and started playing the bass part. He noticed and, for my 16th birthday, he bought me an electric bass." Nat had grown up hearing bluegrass, rock and soul records but did not get an opportunity to listen to jazz until he was already a bassist. "As a teenager, I listened closely to the radio, learning everything by ear. Originally I gravitated towards soul artists such as Marvin Gaye and the music of the time. In high school, I worked for a time with a band called the Dynatones. We learned all of the top 40 songs as soon as they came out. Whenever a new hit record was released, we would purchase the recording, go in the basement, put it on the turntable, and learn the song. Quite often the same day we would play the song for dances."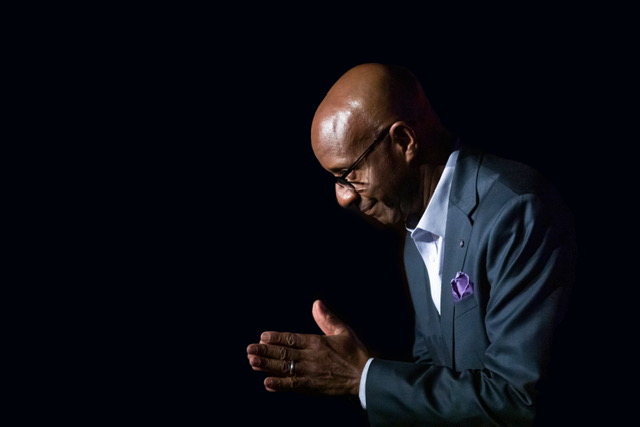 Nat admired Stanley Clarke, Jaco Pastorius and all of the top electric bassists of the time, being interested in all of the styles. "As a bassist it is my function to concentrate on the foundation of the band and make everybody else sound good. To become a better bass player and learn more about the instrument, I started listening to jazz. In jazz there is much more freedom to create one's own bass part and to develop my own bass sound. It is my job to always learn and not merely play the bass but be a bass player, projecting more than just my notes and always sounding fresh and alive."
When he was 22 and living in Richmond, Virginia, Nat joined a band led by trumpeter Tom Mitchell and guitarist Randy Johnston. Johnny Coles, trumpeter for Ray Charles who frequently sat in with the band, convinced Nat to switch to acoustic bass. Without taking a lesson, Nat taught himself the new instrument and quickly developed his own individual voice.
In 1979, Nat Reeves moved to New York City. "I listened, played on the streets, listened some more, and learned. It was at the same time that Kenny Garrett, Mulgrew Miller, Tony Reedus and James Williams also came to New York. We were all friends and played together." He first toured with Sonny Stitt in 1982 during what would be the great saxophonist's last tour. That year he met Jackie McLean, who became his mentor.