Victor Gould - piano
Buster Williams - bass
TBD - drums
Hailed by Downbeat magazine as "a new and important compositional voice," and by allaboutjazz.com as "a composer of great ambition and skill," Victor Gould has earned distinction as a pianist, composer and first-call sideman for such artists as vocalist Jazzmeia Horn, whose Grammy-nominated recordings A Social Call and Liberation feature Gould prominently. His first album, Clockwork, was named Debut of the Year in the 2016 NPR Music Jazz Critics Poll. With the subsequent releases Earthlings and Thoughts Become Things, Gould documented an ever-widening musical vision, adeptly orchestrating for horns and strings in varied combinations. On his 2021 release In Our Time he stakes a claim as an inventive, highly expressive player in the piano trio idiom with bassist Tamir Shmerling and drummer Anwar Marshall (plus special guest tenor saxophonist Dayna Stephens).
Born in Los Angeles and now based in the New York area, Gould began playing piano at age 4 and joined the great alto saxophonist Donald Harrison's band at age 17. He has toured the world, performing at the Umbria, Newport, Monterey, Detroit and North Sea Jazz Festivals, among others. He has worked extensively with trumpeter Jeremy Pelt, whose albums Make Noise!, Noir En Rouge: Live in Paris, Jeremy Pelt The Artist and Griot: This Is Important! all highlight Gould's top-tier artistry. As a member of the Black Art Jazz Collective, nominally co-led by Pelt and tenor saxophonist Wayne Escoffery, Gould composed the title track from the sextet's 2020 HighNote release Ascension. In addition, Gould has performed with Buster Williams, JD Allen, Vincent Herring, Eric Alexander and Sean Jones, and recorded with Wallace Roney, Bobby Watson, Etienne Charles, Ralph Peterson and many others.
One of the first recipients of the Herbie Hancock Presidential Scholarship at Berklee College of Music, Gould went on to earn a Master's degree from the prestigious Thelonious Monk Institute of Jazz at Loyola University. He has taught at Xavier University and elsewhere, following in the footsteps of his great mentor-educators. His honors include a 2020 New Works Grant from Chamber Music America as well as a 2009 ASCAP Foundation Young Jazz Composer Award. He won Loyola University's 2011 Concerto, Aria and Composition Competition and placed as a semifinalist in the 2006 Thelonious Monk International Piano Competition. In light of these accomplishments at a fairly young age, it is clear, as allaboutjazz.com has declared, that Gould "has got the musical world on a string, in his mind and at his fingertips."
Treat yourself to dinner before the show at the Old Lyme Inn (attached to The Side Door Jazz Club!) and enjoy our delicious three-course prix-fixe dinner with inspired dishes by head chef Sichanh Patana!
MAKE DINNER RESERVATIONS HERE (we recommend reservations sometime between 5:30 and 6:30pm)
OLD LYME INN DINNER MENU: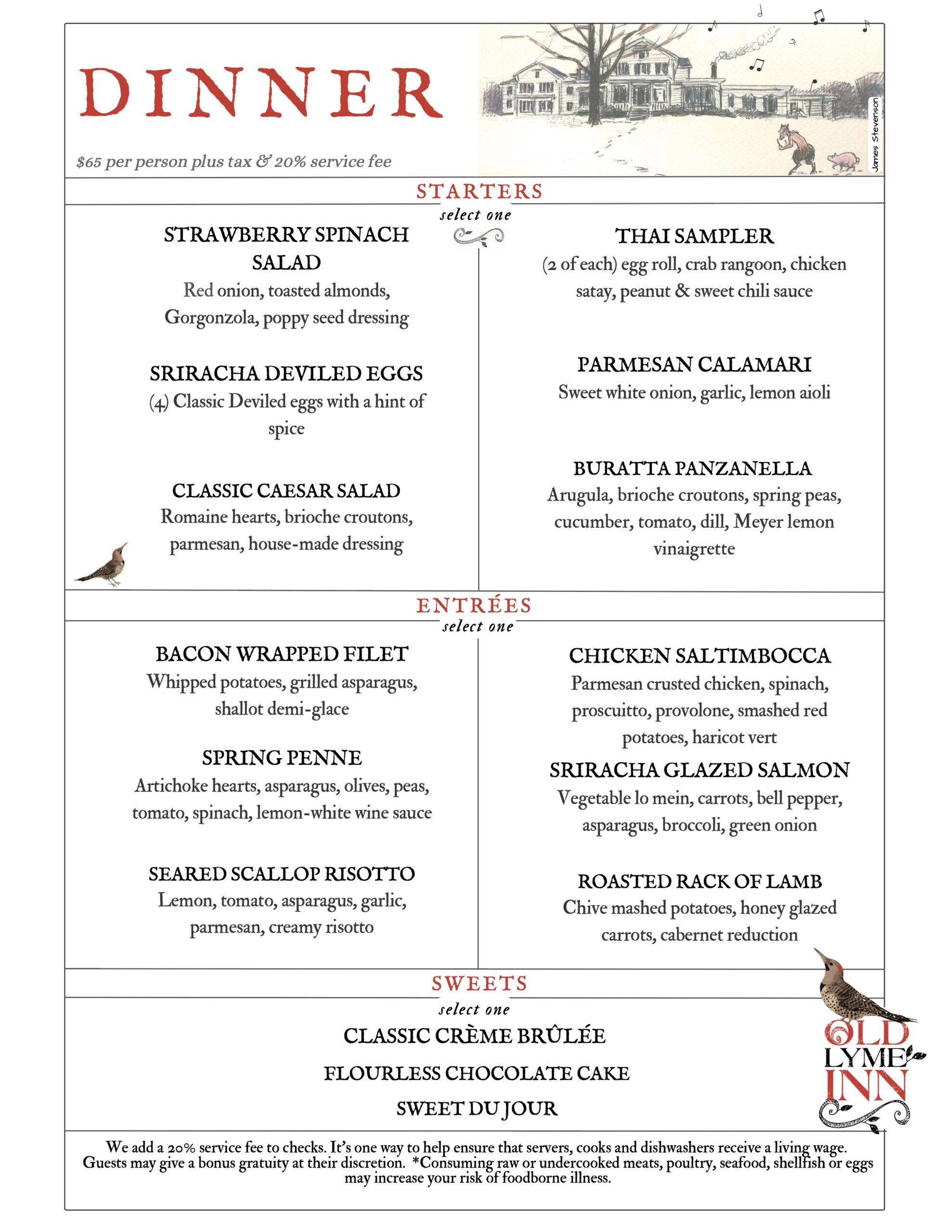 *Doors open at 7:30pm
*Show starts at 8:30pm
*Seating is first-come, first-served.
*If you are dining with us, you may come to the club when doors open at 7:30pm to secure seating.