ABOUT SASHA DOBSON

Sasha Dobson has performed all over the world in diverse contexts as a leader and first-call collaborator. The
singer-songwriter and multi-instrumentalist represents one-third of hit trio Puss n Boots, alongside Catherine
Popper and Blue Note Artist Norah Jones, with whose band Sasha has toured fairly regularly for the past eight
years. As a guitarist and songwriter, Sasha bonds intuitive phrasing and refined storytelling chops with her honest,
witty lyric-writing. Daughter of vocalist Gail Dobson and highly sought pianist and arranger, the late Smith Dobson,
Sasha developed a core understanding of the lineage of jazz from an early age — one that has allowed her to
develop into the powerhouse singer and multi-instrumentalist she's become. In addition to traveling the world as a
three-dimensional performer, Sasha spent her early days in New York hitting as a leader at many of the city's noted
venues including Jazz at Lincoln Center and Smalls Jazz Club where she and her band are a regular fixture. In recent
years, she's led her own project at Farm Aid and opened for Willie Nelson. In 2020, Sasha released Simple Things,
her anticipated EP featuring Don Was on bass and production and Jay Lane on drums. Her 2021 release of Girl Talk
featuring guitarist Peter Bernstein reflects her most personal contribution to the music to date.
More info at https://www.sashadobson.com/
Treat yourself to dinner before the show at the Old Lyme Inn (attached to The Side Door Jazz Club!) and enjoy our delicious three-course prix-fixe dinner with inspired dishes by head chef Sichanh Patana!
MAKE DINNER RESERVATIONS HERE (we recommend reservations sometime between 5:30 and 6:30pm)
OLD LYME INN DINNER MENU: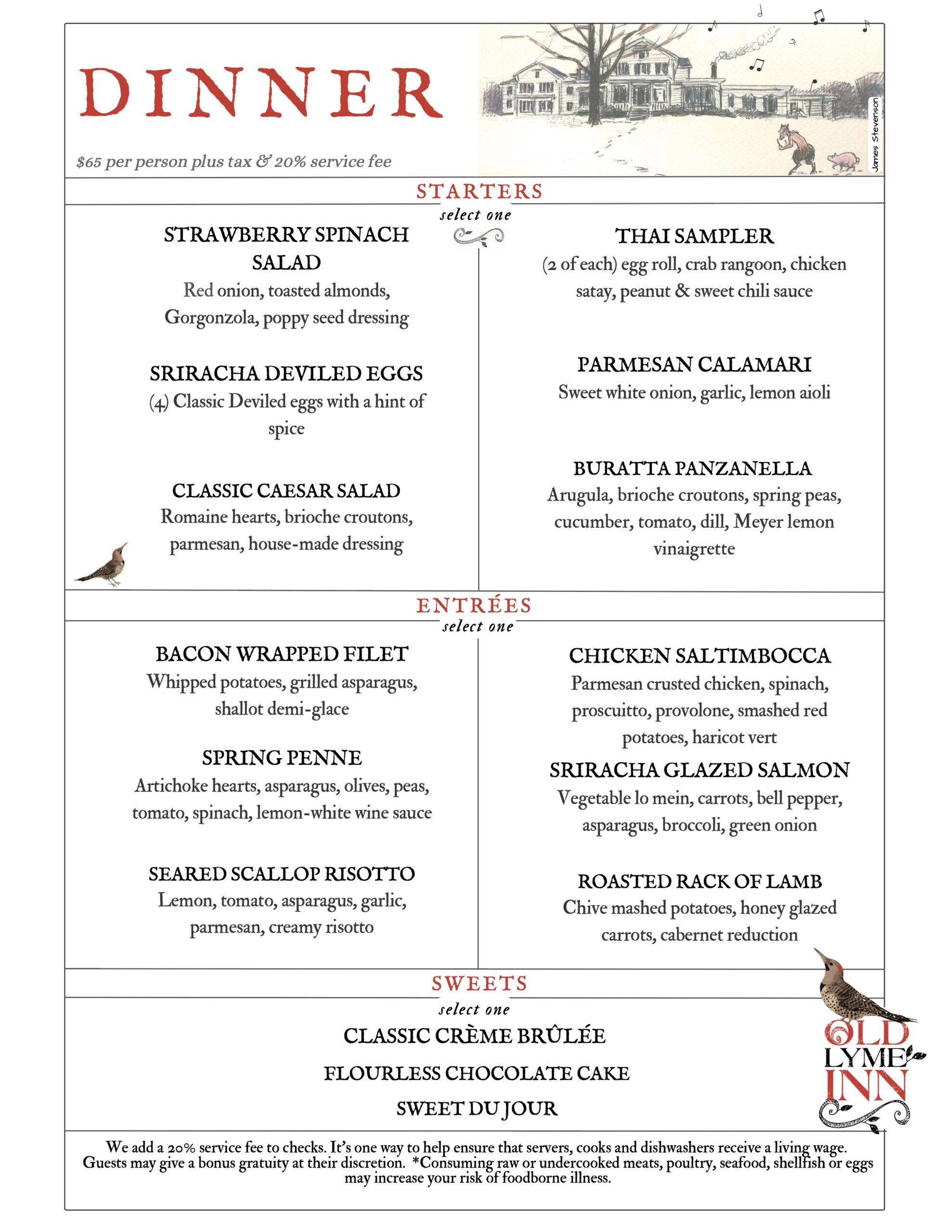 *Doors open at 7:30pm
*Show starts at 8:30pm
*Seating is first-come, first-served.
*If you are dining with us, you may come to the club when doors open at 7:30pm to secure seating.