Master Gypsy Jazz Guitarist leads Global All Star Group at Nighttown.
Featuring: Olli Soikkeli-guitar (Finland), Albert Pibiri-piano (Italy), & Elias Bailey-acoustic bass (USA).
Also Featuring Special Guest Opening Act Hot Djang!
The Wall Street Journal wrote: "Olli Soikkeli, a riveting finnish guitarist who combines astonishing dexterity and speed with pure soul in a way that places him among the worthiest current day successors to the legacy of the great Django."
Olli Soikkeli was born in Nurmes, Finland in 1991. Now based in New York City. He started playing guitar at age of 12. After a few years of playing Olli was introduced to the music of great Django Reinhardt and Gypsy Jazz has been Ollis main focus ever since. Soon Olli was playing in jazz clubs and festivals all around Finland. After touring all around Europe with musicians such as Paulus Schäfer and Arnoud Van Den Berg Olli decided to move to New York City in 2014. Olli has played legendary venues such as Birdland Jazz Club, Blue Note and the Lincoln Center.
Despite his young age he's already played with stars such as Bucky Pizzarelli, Stochelo Rosenberg, Tommy Emmanuel, Andreas Öberg, Cyrille Aimee, Anat Cohen, Antti Sarpila and Marian Petrescu.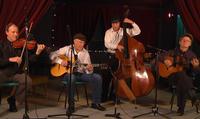 Hot Djang! is an acoustic jazz quintet featuring violin, clarinet, acoustic guitars and upright bass.
Reed Simon (violin) has worked with many of Cleveland's top jazz musicians and national artists including guitarist Tony Mattolla, vibraphonist Gary Burton and as a special guest on a Duke Ellington program at Severance Hall.
Eric Seddon (clarinet) has performed with Grammy winners Doc Severinsen, The Moody Blues, the Emerson String Quartet, Steve Allen, and Mark O'Connor. His solos engage the history of jazz clarinet from New Orleans roots to subtle swing to modern complexity.
Kevin Richards (guitar) is highly regarded in the local roots music scene and has shared stages with Mac
Martin, John Hammond, Jorma Kaukonen, Howard Armstrong, and local blues legend Robert Lockwood Jr
Brad Smedley (guitar) is the heartbeat of the band. He has studied under several of the best jazz guitarists
of this genre including Frank Vignola, Gonzolo Begara, and Robin Nolan.
Bryan Thomas (contrabass) has numerous performance credits including Terry Gibbs, Junior Mance, Vic Damone, Russell Malone and locally with The Cleveland Jazz Orchestra, and Ernie Krivda.