Theljon Allen: Trumpet
Nate Hook: Woodwinds and Live Electronics
Chris Barrick: Vibes
Born and raised in Texas, Nate Hook's music embodies the full tone and rich creativity of great horn players from the Lone Star State. Playing saxophone and piano as a youngster, he learned from the top musicians in the Austin community, including Justin Vasquez, Jeff Helmer, Paul White, Tony Campise, and Alex Bohrer, and performed with groups at the University of Texas, The Elephant Room, and other venues. Nate moved from Texas and into the East Coast jazz world when he attended William Paterson University, where he studied with Vincent Herring, Harold Mabern, Bill Mobley, and Bill Goodwin, among others.
By 2012, Nate was performing around NYC at locales like Smalls, Smoke, The Lenox Lounge, The Zinc Bar, The Stone, and others. Living in NYC, he also had the opportunity to perform alongside Jean Michel Pilc, Carlo De Rosa, Bill Goodwin, and others. In 2013, he started the band "Progressive Overload," which will release their first album in the fall of 2016. As a resident of Baltimore, Nate studied with Gary Thomas and earned a performance degree from the Peabody Conservatory. He has worked in recent years with Ralph Peterson, Alex Norris, Paul Bollenback, and Bob Butta, just to name a few. In the spring of 2016, Nate played bass clarinet in Gary Thomas' "Pariah's Pariahs" ensemble, a recording of which will be available later this year.
---
Theljon Allen is a native of Baltimore. He began playing trumpet in the sixth grade, attended Randallstown High School and went to college at New School University. Since school, he has had the opportunity to play and or record with many music acts such as Ledisi, Janet Jackson, Lonnie Liston Smith, Cyrus Chestnut and many more.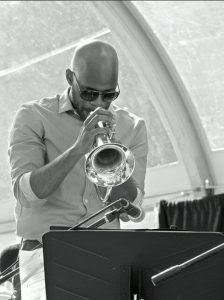 I became a trumpet player because of Clifford Brown. I heard him on the radio and thought it was the slickest ever. Joy Spring was the tune I later found out.
I played violin when I was 3 or 4 years old. When I started playing trumpet my whole view of music changed by listening to more jazz and having a wider variety of music to check out. The trumpet is pretty difficult at times but any instrument can be, it's all about how you look at it. If you put the time in the easier it gets. It's a very physical instrument you have to play it daily to keep up.
I would say the two biggest impacts on my musical life are Gary Thomas, a saxophonist/ flutist and composer, his approach to music is genius and has given me a whole new approach to music. The other is Doobie Powell, a God send of a musician whose music has inspired me greatly. Keyon Harrold is probably my favorite trumpet player out now, I've known him since 1998 and has been incredible since then. http://theljonallenmusic.com/index.html
8 pm show:: $15 in advance/$18 at door/$10 full-time student with ID
9:30 pm show: $10 in advance/$13 at door/$10 full0-time student with ID