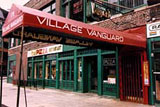 Village Vanguard
178 Seventh Ave. South (just below West 11th St. in Greenwich Village) New York, NY 10014
212-255-4037
3:00 pm - 12:30 am
All pre-paid admission sales are final after 4:00 PM the day of the show. If you cannot attend, you may contact us by phone (212) 255-4037 or email to request a refund. To do so, you must call before 2:30 PM the day of the show. If you contact us via email, the date/time-stamp must read earlier than 2:30 PM EST the day of the show. In all cases, the $3.00 service fee is non-refundable.

Seating is assigned on a first-come first-served basis. We recommend you arrive early for the greatest choice of seats. Certainly you should plan to be at the club no later than 15 minutes before the show begins.

We now accept Visa, Mastercard and American Express at the club.